Interviews are one of the many skills that you improve on with practice. Like anything, hiring someone to do interview coaching will help you improve your skills. This will give you a better chance of landing the job you want. A career coach will work closely with you to practice mock interviews and provide real-time feedback. Your interview coach will help you with all of the necessary skills like small talk, body language, confidence, and more.
An Interview Coach will help you with: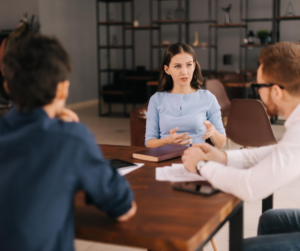 Phone Screening –  Generally, this is the first step in the interview process. The phone screen will get your foot in the door for the in-person interview. This is the hiring manager or recruiter's way of weeding out unqualified candidates. Our interview coaches will help you ace the phone screening and help you get to the next step.
Your Pitch – An interview coach will help you develop a succinct and impactful pitch. Why should they hire you? It can be daunting to try to summarize years of experience in a short pitch, but we will help.
Interview Questions – Practice, practice, practice interview questions. Our interview coaches are experienced and knowledgeable about common interview questions. Many people have trouble with behavioral interview questions, which is one of the most common interview styles. This type of interview question will require you to think on your feet and recall a specific example. Our interview coaches are here to help you prepare for those difficult questions!
Salary Negotiations – Once you nail the interviews and you receive the job offer; it doesn't stop there. Don't sell yourself short; be ready to negotiate your salary. Many people are either too nervous or unskilled to effectively negotiate their salary. Preparation is key, and our interview coaches will help you prepare for the final stage of the interview process.
Contact Heartland Resumes or call us at 402-215-8238 to hire an Interview Coach today!