Look no further! Work with a local resume writer at Heartland Resumes. We serve Omaha, Lincoln, Des Moines, and surrounding cities. Our writers are familiar with the current and local job market and trends, and we will work to ensure your resume lands you the interview you are seeking!
At Heartland Resumes, all of our writers are CPRW certified. This means that our writers are all qualified experts in the resume writing business. The CPRW is the standard certification for resume writers and ensures quality!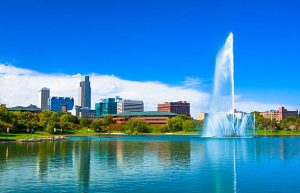 Work with a local resume writer!
Our resume writers in Omaha will work closely with you to ensure that your resume reflects your unique skills, experience, education,  work history, and more! We will select a format based on your unique work history. Don't fall for those big generic template websites; use local writers who have a passion for helping people improve their careers!
The process of working with a local resume writer
So how does the process work? Once you decide to hire us, you will fill out a questionnaire that will include all of the necessary information to create the best resume possible. This form will include information such as your background, skills, education, achievements, and career goals. We then use this information to personally tailor your resume to reflect you in the best possible light!  We will then provide you with a draft, and you can request edits if necessary. Then, you are all set with a resume that is ready to be submitted to the job application process. Our writers will provide you with a resume that is far more likely to be selected and not rejected by online parsing systems.
We are so sure that our services will work that we even guarantee it! If you don't, we will rewrite your resume at no additional charge. Learn more about our guarantee!
In addition to resumes, we also offer help with:
To hire a local resume writer and give your next job opportunity a better chance, contact us today!