Omaha Professional Resume Writing Services
Omaha – A great place to work and call home.
Heartland Resumes writing services started in Omaha.  According to USA Today, Omaha ranks eighth among the nation's 50 largest cities in both per-capita billionaires and Fortune 500 companies. With diversification in several industries, including banking, insurance, telecommunications, transportation, and architecture/construction. Omaha is a wonderful place to live and work.
To take advantage of these opportunities in the Omaha area, you will need to set yourself apart from other job applicants, and that starts with your resume. Let Heartland Resumes and its team of certified professional resume writers provide you with a well-written strategic resume to get you started in finding that perfect job.
What goes into writing a professional resume?
When Heartland Resumes writes your professional resume, we start from scratch. However, we encourage you to forward us past resumes to get a better idea of your attributes and skillsets. Next, you will fill out a questionnaire that we will provide. This helps us create a snapshot of your background, skills, and achievements, as well as a powerful and colorful description of what makes you unique among your peers.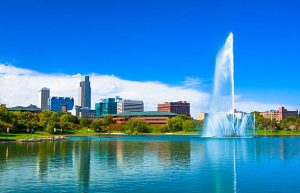 Our writers will then go to work to create your unique professionally-written resume. This includes optimizing your resume with keywords so that it resonates with the online parsing systems that many employers use to scan your resume before a human sees it. Our writers are experts in creating resumes with an excellent chance of being selected and not rejected.
What is a Certified Professional Resume Writer (CPRW)?
In the early 1990s, the CPRW designation creation was to bring standardization and quality control to the professional resume writing industry. With resume websites on the rise, it was nearly impossible to maintain quality resumes. Many companies had template-based websites that did not allow you to communicate with the writers. You gave them some information, and they spit out a basic resume.
The CPRW is a four-part test. It requires a mock resume and cover letter creation exercise, which is judged by a qualified panel. Less than half of the applicants are awarded the distinction. Having only CPRW writers on our team gives you the peace of mind that you will receive the best resume for you. You would want a qualified doctor taking care of you when you are sick or a CPA taking care of your tax returns, so when it comes to your resume, you want a CPRW working for you. To ensure your writer is certified, For a listing of CPRWs by state, click here.
Do I own my resume after Heartland Resumes is finished with it?
Yes, of course! Our process includes presenting you with a draft for you to look over and edit. You can collaborate with the writer and give your feedback. When you are satisfied, we give you a Word document and a .pdf file of the resume. The Word document allows you to make necessary changes moving forward. Heartland Resumes are available to help you with future revisions. Sadly not all resume writing services work in this way. Many companies will help you but charge for any modifications you need.
Does my new resume guarantee results in my job search?
Yes! We guarantee your resume will get results. If you are not 100% satisfied, we work with you and revise your resume for free within the first 12 weeks. See full details here!