In today's busy world, it takes time for recruiters to reach out to potential applicants. You could have applied for a job weeks ago or just yesterday, either way, you need to be prepared when they call. While on the phone with a recruiter, don't forget to ask these 6 questions while you're on the phone. 
Even if it only lasts 5 minutes, the call is essential and more important than the job interview. Why? First impressions are unforgettable; this is your chance to show who you are.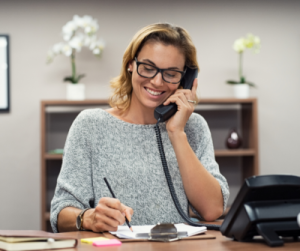 It's also a perfect time to ask any questions about the job so you can be prepared for the interview.
Here are the 6 questions to ask the job recruiter
1. Do you work for the hiring company?
There are two types of recruiters. It's essential to know the difference between each one. An internal recruiter works directly with the company that looking for someone to hire. In contrast, an external recruiter works as a third party, acting as a go-between for the hiring company and the job candidates.
Knowing the difference will help determine which questions you might ask and will provide insight into the answers you receive. For instance, an internal recruiter could have more information about the company's culture; however, talking with an external recruiter, you might also ask about other available job opportunities. 
2. Who's the ideal candidate for this role?
Want an advantage with the interview? Ask the recruiter about the company's ideal employee. You could reference the job posting, but the recruiter will likely have more intel. Take plenty of notes, and don't be afraid to ask more questions. You can use this information to decide if this position is a good fit for you.
3. How quickly do you want to fill this position?
Sometimes it takes a few weeks to hear back after your interview. You can better understand how long the process could take by asking how quickly a company's looking to fill a position. 
4. How would you best describe the company's culture?
Before going into an interview, you'll want to research a company's culture to see if it would be a good fit for you. The most effective way to do this is to review a company's website and check out social media, but it can be challenging to pick up the vibe from behind a screen.
So when you have a recruiter on the phone, ask. A recruiter will be able to provide some additional insight.
5. What's the starting salary range?
 This is a great question for a recruiter but can be tricky. The goal of this initial conversation is to determine if the company is a good fit for you and vice versa. Why continue with the interview process if the company can't pay you what you need?
Use your best judgment to find an appropriate time to ask during the conversation. If you do, be delicate with the way you ask the question. Try something like: "I want to make sure this position fits my needs. Do you have information on compensation? A starting salary range?"
It's not uncommon for a recruiter to ask about your salary expectations, so be prepared to answer that question when asked.
6. What are the next steps?
The most critical question you need to ask is, "What are the next steps?"
Ask about how long the interview process typically takes, if any travelling will be a part of the position, and if there is anything else they'll want from you. This is important in determining if the opportunity is right for you and is worth your time. 
Are you looking for more information besides these 6 questions? Contact us today. 
This article was originally published in April 2020 and has been recently updated.