While hiring has slowed, it hasn't stopped altogether. Many employers are still recruiting – they're conducting remote interviews.
Here are six steps to nailing those remote interviews and landing the job you want.
Your setup
Sit down and turn your camera on; what can be seen? 
Arrange your face in the middle of the screen. Check the position or height of your laptop to get the angle correct, so you're not looking down at the camera. Take a look around the room. Make sure there is no clutter, and organize the area. 
Be aware of noise or distractions that might interrupt you, such as housemates in the kitchen or pets. Find a quiet space that allows you to focus.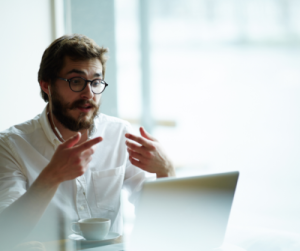 Try a test run
With so many video conferencing platforms, it's easy to get confused. Whether it's Webex, Zoom, Skype, or Teams, practice with a friend to learn the platform used.
There is nothing worse than your connection freezing halfway through the interview, be sure to check that your internet is working correctly. 
Keep calm is things go wrong. Have a backup plan in place. Ask for the interviewer's mobile number or email address in case of any technical difficulties throughout the interview.
Get organized  
Prepare some answers to possible interview questions. Keep them brief so you can speak freely and naturally in the interview.
Maintain eye contact with your interviewer, and place your notes in sight, but not directly in front of you. 
You may also need to refer to your CV. It would be helpful to have it on hand.
Dress the part
It sounds a bit silly, but do get fully dressed – not only is it professional, but it also puts you in the right frame of mind to have a formal conversation.
Show your personality
Let your warmth and humor shine through.
Relax, laugh, and use hand gestures and body language to tell a story just like you would in person (be sure you give yourself enough space to do this during your practice run, so you don't knock anything over!)
Send a follow-up email
Make sure to send a follow-up email to your interviewer to thank them for meeting with you. Consider including a few points you spoke about in your interview to remind them of your discussion.
You might also share additional thoughts on the point of discussion or a few ideas for what you'd do in the role. This extra effort shows the interviewer how serious you are about wanting the position. It might just be the additional momentum you need to edge out the other candidates and get the job.
Have questions? Contact us; we would love to help! 
This article was originally published May 2020 and has been recently updated.